---
EMOTIONAL PROCESSING
By Stormy Smoleny Ph.D.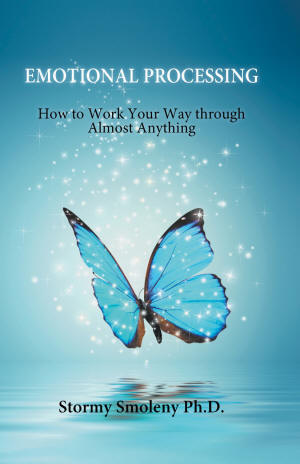 ---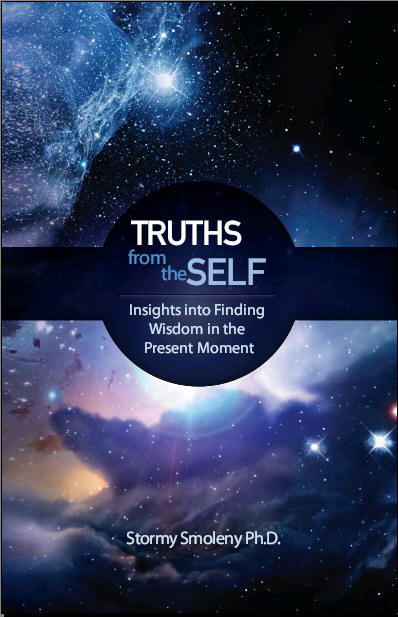 TRUTHS FROM THE SELF
By Stormy Smoleny Ph.D.

Truths from the Self is an insightful guide to discovering the ever-changing wisdom of the present moment and its application to every facet of our lives. Moving us beyond fixed beliefs and rigid value systems, this book shows us how to transform ideological absolutes into flexible responses based on the realities of the current situation. Both practical and philosophical, Truths from the Self shows us how to find our inner truth, evaluate our motivations, assess our current reality, and emerge with powerful options for our lives. It helps us to see clearly into the nature of a person or situation in our present moment, differentiate between factors without judgment, and shed our fears of evaluating reality with clarity and common sense. A superior guide to comporting ourselves with both strength and sensitivity, this book illustrates how to bring wisdom to each new situation and respond in the best possible manner to our present-moment circumstances.
Truths from the Self shows us . . .
How to find our inner truth;

The difference between inner truth and self-gratification;

The importance of exercising our powers of differentiation;

Three energies that must be mastered in order to act with present-moment wisdom;

The difference between compromise and a dynamic balance of energy;

How soul movement differs from conscience;

The importance of dealing with reality rather than idealized images;

How to use all parts of self as the moment demands;

How present-moment wisdom is based in attunement to self and others;

How to give to others without impoverishing the self.
Written by a nationally certified psychoanalyst, Truths from the Self is factual and well grounded, yet resonates deeply with the heart and soul. Reading it is more than informational; it is an uplifting and joyful experience.
---

Table of Contents

Acknowledgements

Preface

FINDING WISDOM IN THE PRESENT MOMENT

BASIC CONSIDERATIONS

Insight 1 Energy Movements

Insight 2 Assertive Energy

(Outward-Moving Energy)

Insight 3 Receptive Energy

(Inward-Moving Energy)

Insight 4 Static Energy

Insight 5 Compromise vs. Dynamic Balance

Insight 6 Differentiation

Insight 7 Realism

Insight 8 Beliefs

Insight 9 Inner Truth

Insight 10 Inner Truth vs. Honesty with Self

Insight 11 Inner Truth vs. Self-Gratification

Insight 12 Ascending and Descending Energy

Insight 13 Flexibility in Goal Attainment

Insight 14 Ethical Behavior

Insight 15 Truth vs. Fairness

Insight 16 Integrating Male and Female Energies

Insight 17 Boundaries

Insight 18 Non-Resistance

Insight 19 Commitment

Insight 20 Self-Sacrifice

Insight 21 Idealization

Insight 22 Identifying Pathology

Insight 23 The Meaning of Behavior

Insight 24 Straight Lines and Spirals

Insight 25 Soul Movement vs. Conscience

Insight 26 Levels of Perspective

FINDING WISDOM IN THE PRESENT MOMENT

DETERRENTS TO PRESENT-MOMENT FUNCTIONING

Insight 27 Truth vs. Rationale

Insight 28 Countering Prejudice

Insight 29 Manipulation

Insight 30 Contamination

Insight 31 Holism as Dogma

Insight 32 Misidentifying the Meek

FINDING WISDOM IN THE PRESENT MOMENT

USING ALL PARTS OF SELF

Insight 33 Complementary Halves

Insight 34 Acceptance vs. Rejection

Insight 35 Trust vs. Mistrust

Insight 36 Dependence vs. Independence

Insight 37 Peace vs. Fighting Back

Insight 38 Leading vs. Following

Insight 39 Speaking vs. Remaining Quiet

FINDING WISDOM IN THE PRESENT MOMENT

SELF-AWARENESS IN GIVING TO OTHERS

Energy Exchange: Introduction

Insight 40 Energy Exchange:

Transactional Giving vs. Unconditional Giving

Insight 41 Energy Exchange:

Giving as a Form of Appeasement

Insight 42 Energy Exchange:

Giving to Heal Dysfunction and Manage Chaos

Insight 43 Energy Exchange:

Giving as a Method of Communication

Insight 44 Energy Exchange:

Giving to Create Need

Insight 45 Energy Exchange:

Giving to Deny Noxious Feelings

Insight 46 Energy Exchange:

Giving to Deny Aggression

Insight 47 Energy Exchange:

Giving to Deny Sorrow

Insight 48 Energy Exchange:

Giving to Deny Fear

Insight 49 Energy Exchange:

Giving to Reverse Powerlessness

Insight 50 Energy Exchange:

Giving to Undo Unacceptable Elements of Self

Concluding Thoughts

Glossary

Endnotes

Bibliography

About the Author